John & Katya
Meet Katya and John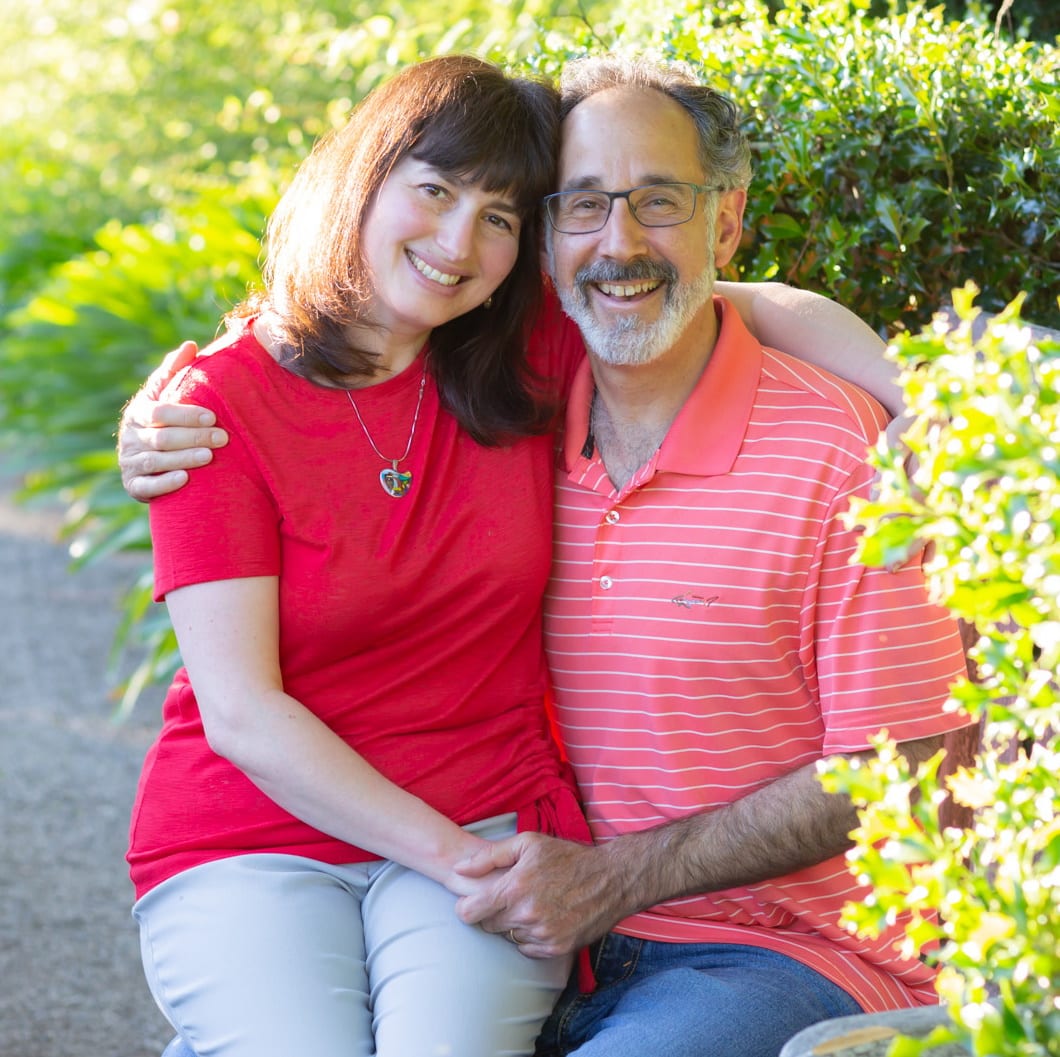 Dear Birth Mother, hello! We are Katya and John from Northern California. Thank you for considering us as adoptive parents for your child. We know it is not an easy decision to make, and we appreciate your courage and your desire to give your child the best possible family and home. We promise to love your child to the moon and back and give them a stable, secure home. There are many people among our family and friends who have adopted or were adopted themselves, so for us it is a natural path to welcome a child into our life.
How We Met and Life Today
We met in 2016 in San Francisco at a small concert by pure chance! We happened to sit next to each other. Incidentally, we started chatting and felt an instant connection. Katya was drawn to John's warm smile and how easy he was to talk to. John was drawn to Katya's openness and quickness to laugh and enjoy the moment.
As we spent more time together, we discovered that we had a lot in common, and most importantly, that we shared love and devotion to each other and our family and friends. We were married about a year later in a beautiful ceremony in San Francisco City Hall and settled into our new home near San Francisco.
For as long as she can remember, Katya has dreamed of becoming a mom, and John loves being a dad to his three children from his first marriage, who are now adults. Now we cannot wait to raise a child together and share our love, joy, and excitement about the world with our child.
What We Do For a Living:
• Katya: I am a nurse by training but now I work in medical research – researching and bringing new medicines to patients. My job is rewarding as it helps treat diseases and improve the quality of people's lives. At the same time, it allows a great work life balance as I can work from home two days a week and have flexible hours, which will be very helpful once we become parents.
• John: My interests in math and science as a kid led me to receiving a degree in mathematics from UC Berkeley and becoming a software engineer. I am now an executive at a large software company in the San Francisco Bay Area. I love the people I work with and enjoy learning about new technology. I have a flexible work schedule and ability to work from home twice a week, which will come in handy when we bring the child home.
5 Things We Enjoy Doing Together
1. Drawing, painting, or just making a mess on paper with brushes full of color
2. Spending time with family and friends
3. Picnics on sunny days or even on foggy days all bundled up in warm clothes
4. Cooking and experimenting with new recipes
5. Day trips and travel — our favorite destinations are California, Kauai and Italy
Meet Katya and John
About Katya
Meet Katya, by Katya: I was born and grew up in Saint Petersburg, Russia and came to the United States 22 years ago. My parents were always kind, loving and supportive. We did a lot of activities together, such as playing board games, discussing books, and camping in the summer. I didn't have siblings but have always had many close friends.
As a child, I liked to draw and paint, and I have always been an avid reader. I think books allow us to live many lives – all at the same time. I cannot wait to share my love of reading with our future child and teach them to express themselves and explore their own interests.
About Katya, by John: Katya amazes me every day with simple acts of kindness, unexpected surprises, beautiful smiles, and fun conversations. She is loving, caring, fun and funny, and always willing to help. She is very close to her parents and grandmother who live nearby – they have become not just family to me but my best friends. Any child would be blessed to have Katya as their mother.
Fun Facts About Katya:
• Nine years ago, I organized a book club that now has more than 90 people!
• I love organizing surprise birthday parties for my family and friends.
• I have a very good memory and remember almost everything that happened to me since I was about 3 years old.
About Katya
About John
Meet John, by John: I grew up in California in a close-knit family with my parents and a younger sister. I have a deep love for nature and the outdoors. As a kid I spent a lot of time swimming, playing tennis with my dad and basketball with friends, hiking, and camping. When I wasn't outdoors, I loved to build things and as a teenager, I once built my own electric guitar. I cherish all the moments I have with family and friends. I look forward to doing many wonderful activities with our future child, such as painting, hiking, building sandcastles, and playing games and sports.
About John, by Katya: John is my best friend, my soulmate and the love of my life. He brightens up my life and the life of everyone around him with his kind smile, contagious laughter and joy about almost anything. He is one of the kindest, warmest, most patient and gentle people I have ever met. He is always excited about trying new things, meeting new people and seeing new places. I feel so incredibly lucky he is my husband and my partner in life. I know he will be an amazing Dad to our future child!

Fun Facts About John:
• I carry a sketch book everywhere I go to capture beautiful memories.
• I taught my son to play chess but now he wins every time we play together.
• Once my friend Mike and I built a wooden raft from scratch to go fishing on a lake.
About John
Our Family & Friends
Meet Our Entire Family:
Katya's family: Katya's parents and grandmother live in the Bay Area just 30-40 minutes away from us. We see them every week and celebrate all family events and holidays together. Katya's parents are very excited about becoming grandparents for the first time and are looking forward to spending a lot of time with their grandchild.
John's family: My younger sister Kristina and her husband, Brett, live in Portland, Oregon where my mom also moved after my father had passed away. Katya and I travel to see them frequently throughout the year. From my dad, I inherited my talent for engineering and his concern for the world around us. From my mom, I learned what it means to be a true friend, and from my sister I learned to never give up on your dreams.
My older daughter Marcie is living her dream as a teacher and writer, and my younger daughter Sophie is a jazz musician and activist. My son Matthew is in college studying towards his dream to be an electrical engineer. I am so excited to become an adoptive parent to share in more dreams with our new child because I believe anything is possible when surrounded by love, faith, and hope.
Values and Traditions: In our family we celebrate a diversity of different cultures and holiday traditions. John and Katya's families come from Greece, Lebanon and Russia having both Christian and Jewish roots. We incorporate both of our heritages and traditions in our family life, and we get to celebrate lots of holidays, including Christmas, Hanukkah, Greek Easter and Passover.

Kind Words from Family and Friends:
"My Dad is the most dependable person I know – I can always count on him to be there for me. As I was growing up, he encouraged my imagination and love of reading and nature. My Dad and Katya have both so much love to give. I am so excited to have a new sibling who I can read to, and hang out with on the beach and in the redwood trees." — Marcie, John's daughter
"Katya and John are two of the biggest hearted people I have ever met. Katya met my daughter when she was 2. They immediately bonded. Rachel is a happy and loving girl and must have recognized a kindred spirit. I think any child would be lucky to have Katya and John as parents." — Donna, friend of the family
"I've known Katya since I was 2. We hit it off right off the bat, and I immediately adopted her as my second Mother. Over the years she has been an endless source of love and support for me. I love her endlessly. Any kid would be incredibly lucky to have her as a Mom." — Rachel, Donna's daughter
Our Family & Friends
Our Home & Promise
Where We Live: We're blessed to live one mile from the Pacific Ocean in a small coastal community south of San Francisco surrounded by beautiful mountains with lots of parks and hiking trails. Our home is within minutes of some of the best schools. There are so many fun activities for families with children in our community – building sandcastles at the beach, exploring interesting sea creatures in the tide pools, riding bikes, volunteering at a community garden or just hanging out at the beach and parks.
Our home has an entire room filled with books, a large family room with games galore, a beautiful garden, and a cozy kitchen for making warm and gooey chocolate chip cookies, among other tasty things.
Our Promise To You: Thank you again for considering us as adoptive parents to your child. We promise that we'll always love, cherish and support your child.
We Will Teach Them To:
• Believe in themselves
• Respect people of all backgrounds and nature
• Celebrate different traditions and cultures
• Encourage a passion for lifelong learning and adventure
• Pursue their dreams even when there may be setbacks
Our Home & Promise