National Adoption Awareness Month is here! It's a month-long event to encourage people to learn about adoption, recognize people who have been impacted by adoption, and organize positive adoption-related events. There are many ways you and your family can learn and participate this year!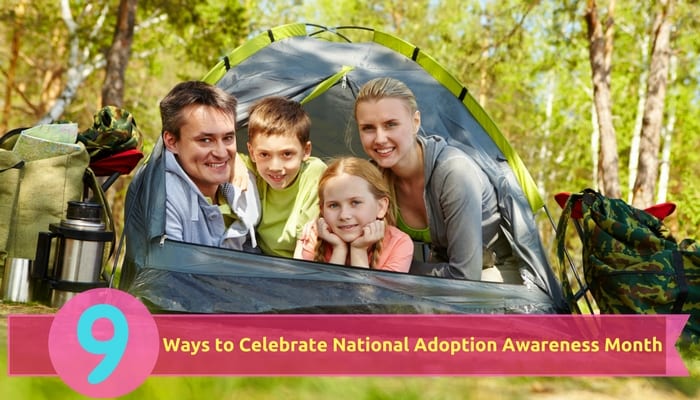 Here are nine ways you can celebrate National Adoption Month:
Retell Your Child's Adoption Story to Them
Set a time where you can sit and talk with your child about their adoption story. You can also create a memory book that tells your child's story before and after adoption.
Spread Awareness through Social Media
Social media is one of the most effective ways to increase awareness about adoption. Share your family's adoption story on Instagram and Facebook. To participate, include the hashtag #NationalAdoptionMonth in your posts.
Watch Positive Adoption-Related Movies with Your Family
Sit back and grab some popcorn with your child and watch some positive adoption themed movies and discuss the movie afterward. Here are a few ideas!
Read a book together that promotes the values of adoption
As we approach the holiday season, it is the perfect time to snuggle up together and read an adoption related book. Here are some examples of great children's books about adoption.
Donate Time and Money to a Local Organization that Supports Adoption
Teach your child about giving back to the community and support adoption awareness by donating time and money to a local organization that supports adoption.
Write a 'Thank You' Letter
Since we're so close to Thanksgiving, what better way to show gratitude than thanking the people who worked so hard made your adoption possible? Write a thank you letter to the social worker, attorney, judge, or other professional who helped you in the adoption process. Send a heartfelt thank you note to your child's birth parents as well.
Celebrate Your Child's Heritage
Cook a traditional dish with your child to celebrate his or her heritage. In addition, you can also play traditional games or activities and make holiday crafts to demonstrate appreciation for different cultures, especially your child's own heritage.
Join Local Events that Encourage Community Participation
Participate in an event that celebrates National Adoption Awareness. Check online to see events near you. If you don't find any events near you, you can always register and host your own event!
Educate Yourself and People around You about Adoption
Continue learning about adoption by either reading books or magazines related to adoption, read blogs written by birth parents, adoptees, or adoptive parents, or going to speaking engagements that educate people about adoption.
There are so many ways to participate, get involved, and spread awareness about adoption. Celebrate National Adoption Awareness Month with us and many others!
If you have any questions about adoption, we're here to assist you! Please don't hesitate to contact us here.