The degree of openness in your adoption depends on what both the adoptive parents and birth parents are comfortable with. When adoptees grow older, they will also have a say in how open they want their relationship with their birth parents to be. Contact through open adoption can involve calls, letters, emails, or even visits. The type and frequency of contact can evolve.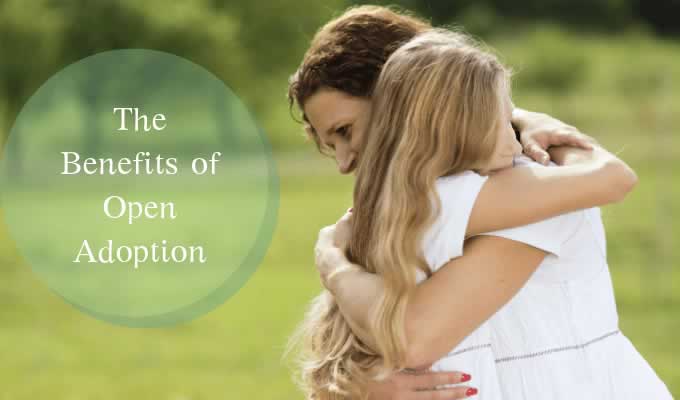 Through honesty and clear communication, open adoption can benefit everyone involved. Here are some of the benefits that open adoption offers to the child, birth mom, and adoptive parents:
Benefits of Open Adoption for the Child
The child will be able to know their adoption story in its entirety and know that their open adoption was chosen in their best interest. This can provide them with a feeling of completeness and a strong sense of identity because they understand every aspect of what makes them who they are.
Other benefits of open adoption for the child include:
Receiving answers to many questions they may have about themselves, birth story and why they were placed for adoption. This results in an increased sense of security as they know who they are and where they come from.
Establishing a sense of belonging and connection to their ethnic or cultural background and ancestry.
No need for an extensive search for their birth parents.
Benefits of Open Adoption for Birth Moms
While many birth moms choose adoption for a variety of reasons, open adoption gives birth mothers the option to be more involved and empowered throughout the adoption process. A birth mom can select adoptive parents that align with her values and the future she envisions for her baby. Open adoption also allows birth moms to meet adoptive families before placing their baby with them.
Other benefits of open adoption for birth moms include:
The knowledge that the child is being raised in a safe, loving, and healthy environment, which eliminates the fear of uncertainty about the child's future.
Birth mothers can create an adoption plan that makes them confident in the decision to choose adoption for their baby.
Help with healing and processing feelings of grief, regret, and loss that may occur after placing the child for adoption.
Benefits of Open Adoption for Adoptive Parents
Open adoption provides adoptive parents the opportunity to meet the birth mom and learn why she is choosing adoption. This can help adoptive parents share the birth mother's information and her reasons for choosing adoption with the child. Adoptive parents often work with an adoption professional, attorney, or agency when contacting the birth mom or birth family. This helps ensure comfortability for everyone involved.
Some of the benefits of open adoption for adoptive parents include:
Reduced fears and providing a sense of security and empathy towards the birth mom, since they know about the circumstances behind the adoption.
More confidence in parenting knowing that they have been chosen as adoptive parents.
Greater ability to answer questions related to the child's background and birth story.
Increased access to medical information or medical conditions present in the birth families.
Open adoption is a decision made with love and in the best interest of the child. With these many benefits that open adoption has to offer, more birth mothers and adoptive parents are choosing open adoption. At Adoption Planners, we help you create a customized open adoption plan that both parties are comfortable with. We have seen a variety of open adoptions and will help you seamlessly walk through your adoption journey.
If you want to learn more about the benefits of open adoption or have questions about open adoption, contact us at 877-903-7526 or TEXT "ADOPTION" to 512-763-9916. Our caseworkers are available to help you 24/7 and provide confidential support.
Please note that Adoption Planners and its employees are not financial advisors. These tips have been provided for informational purposes only. Please contact your personal financial planner or financial/tax advisors for more specific information.